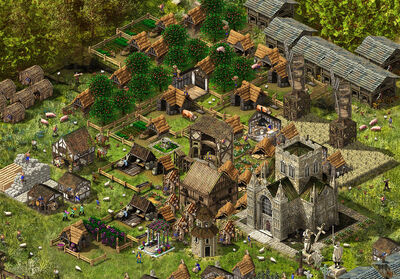 As per all Stronghold games, the village is the central place of interest for any aspiring Lord. Looking at the only released village image, you can see that Firefly intend to implement building ideas from all the Stronghold games. This will allow the player a rich library of buildings to create, research and enjoy.
Note : All Buildings are in Alphabetical order, per each section - this is not a "build order", connected with ranks etc

Building Mechanics
Edit
As more buildings are made the resources to make them and the time require to make them are increased.
The time it takes to make a building can be reduced though researching Education - Architecture (Inceasing 200% max).
The resources needed for building can be reduced through researching Industry - Tools (Reducing 40% max)
Do not currently have the detailed mechanics worked out for build cost and build time*
World Window
Edit
Village Window
Edit
Decorative
Edit
Main Decorations page Here.

Industrial
Edit
Main Industrial page Here.

Economical
Edit
Main Economical page Here.

Main Combat page Here.

Main Banquets page Here.

Miscellaneous
Edit
Main Miscellaneous page Here.

Main Parish page Here.

Castle Window
Edit
General
Guardhouse
Stone
Tower
Wood
Miscellaneous
Edit