Jurassic World: Dominion Dominates Fandom Wikis - The Loop
Play Sound
Quests are tasks that are undertaken by players in which they achieve certain targets in order to attain different rewards for completing those targets. Some Quests, but not all, appear multiple times but the targets and reward increase with each level.
Quests are started by individual players whenever they see fit and remain active until they are either completed or abandoned by the player.
Note: Abandoning a Quest will lose any progress that was achieved while the quest was active. Restarting the Quest will do so from scratch.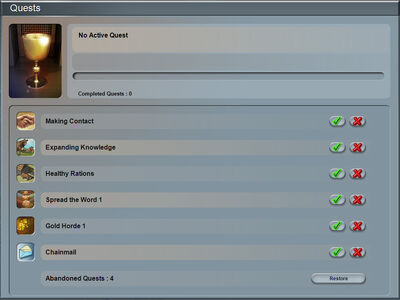 Interface
[
]
Quests can be viewed, activated and abandoned from the Grail icon on the top menu bar of the main Stronghold Kingdoms interface.
Not all Quests are available to players at once. Quests become available as the player ranks up and also when previous Quests are completed.
Players can view a Quests objectives and rewards by clicking on the Quest title. To activate a Quest, click on the green Tick icon. To abandon a Quest, whether the Quest is active or not, click on the red Cross icon. All abandoned quests can be restored by clicking the "Restore" button at the bottom of the list of available Quests. Players can view a list of all completed quests by clicking on the "Completed Quests" text.
Whenever a Quest is completed, the Grail icon will flash and the user will receive a report informing them that they have completed the Quest. The user can then redeem their reward.

By clicking on the Text in the Objective players can access the Quest Help Text. This text will give players additional information about Quests and the requirements for completing them.


Rewards
[
]
Players are rewarded for completing all Quests in the game. The rewards vary for each Quest but can be one or more of the following:
Resources and food rewards require the player to select which village they would like to redeem the reward for.
Later Quests give the option between one of two rewards. The player decides which they would like to receive when redeeming the reward.
| | |
| --- | --- |
| | wiki note : Glory points require the player to be a member of a House in order to receive the reward. If the player is not a member of a House then the option of the Glory points reward will not be given. |

If a player chooses the glory points for his or her house as a Quests reward, a confirmation message will appear in the Quests screen (A). The player and the officers of his/her house will receive a report, which will show the number of point received, if the Glory points are selected as the reward (B).

If a there is not enough room to store all of the rewards from a Quest in your Granary or Stockpile, you will be presented with a confirmation screen.
List of Current Quests
[
]
| | | | | | |
| --- | --- | --- | --- | --- | --- |
| Name | Icon | Description | Name | Icon | Description |
| Making Contact | | Introduce yourself on the parish wall. | Expanding Knowledge | | Research Dairy Farming. |
| Healthy Rations | | Build a Dairy Farm. | Spread the Word | | Invite a friend to the game. |
| Gold Horde | | Raise an amount of Gold within 24 hours. | Chainmail | | Introduce yourself to another player using the in-game mail. |
| Team player | | Donate packets of goods to a parish town building. | Construction Crazy | | Construct an amount of village buildings within 24 hours. |
| Scouts | | Forage an amount of goods.. | Master Forester | | Construct woodcutter's huts. |
| Intelligence Gathering | | Scout different Enemy AI. | Cultured peasant | | Research Arts. |
| Master mason | | Construct stone quarries. | Wolf hunt | | Destroy Wolf Lairs. |
| Ride like the wind | | Uncover an amount of resource stashes within 24 hours. | Deer hunter | | Build a Hunter's Hut. |
| Gathering materials | | Forage an amount of stockpile resources in 24 hours. | Fabulous host | | Hold a banquet. |
| Living off the land | | Forage an amount of food in 24 hours. | Battle hardened | | Kill an amount of enemy troops in 24 hours. |
| Resourceful | | Scout all 4 stockpile resources in 24 hours. | Flourishing Trade | | Raise an amount of Gold through trade in 24 hours. |
| Feasting | | Forage an amount of banquet goods in 24 hours. | Rat Hunt | | Destroy Rat's castles. |
| Law and Order | | Destroy Bandit Camps. | Diplomat | | Stop consecutive attacks with Diplomacy. |
| Feasting | | Forage an amount of banquet goods in 24 hours. | Silence the wolves | | Destroy a number of Wolf Lairs in 24 hours. |
| Daring Raid | | Capture an amount of Parish Flags in 24 hours. | Robber baron | | Pillage another player's castle. |
| Healing the sick | | Remove an amount of disease in 24 hours. | Exercise your right | | Vote in a Parish election. |
| A Blessing | | Send a number of Blessings in 24 hours. | Striking Fear | | Send a number of Inquisitons in 24 hours. |
| Gourmet | | Scout all 6 food types in 24 hours. | Vandal | | Ransack another player's castle. |
| Vipers nest | | Destroy Snakes' Castles. | Justice | | Destroy a number of bandit camps in 24 hours. |
| Supreme General | | Capture other player's castle(s). | Roast Pork | | Destroy Pigs' Castles. |
| High table | | Scout all 8 banqueting goods in 24 hours. | Wolf's Nemesis | | Destroy Wolfs' Castles. |
| Villain | | Destroy Paladin Castles. | Peacemaker | | Send hours of Interdict. |
| Redeemer | | Send hours of Absolution. | Persecutor | | Send hours of Excommunication |