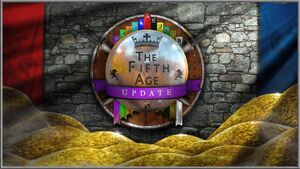 The Fifth Age
(Age V) features Superior Military Schools, abundant Treasure Castles and political reformation!

The Fifth Age gameplay changes will allow players to increase their castles' defensive capabilities and deliver greater riches to their Kingdom. It will also bring significant changes to established political systems and the way in which Houses earn Glory for their conquests.
The following rule set will affect players in this new Age:
Gameplay Changes
[
]
A number of core gameplay features to Stronghold Kingdoms™ will be changed to present new opportunities and challenges for both new and veteran players. These are:
Military Schools can be upgraded to level five.
Treasure Castles are twice as likely to appear.
Weapons Cannot be purchased or traded in this age.
Large Houses gain Glory more slowly than small Houses. A House with 60 members will gain one third of the amount of Glory that would be gained by a House with 10 players or less.
To be eligible for the office of Sheriff, a candidate must belong to a House which controls at least 30% of Parishes in the County.
NB: Please note that all features of the game world other than those mentioned above will remain as is at the time of the start of the fifth age. Players will retain all their villages, research, cards, points etc.As with every Age transition, all Factions and Houses will be disbanded at the beginning of the Fifth Age. The capital forums will be cleared and all players removed from their elected positions.
Once the Fifth Age begins all players will be notified in-game concerning the new rule set.

Hall of Heroes
[
]
All members of the winning House at the end of the Glory race will have their names recorded in the Hall of Heroes, which can be viewed at strongholdkingdoms.com. This hall of fame is our way of recording the daring victories of the players, factions and houses who battle against the odds to become the only remaining house in their Glory Race.
The names, coat of arms and factions of faction leaders and officers are highlighted at the very top of the page, with the House Marshal given special treatment. All other players are listed below and sorted by faction.
Please note that winning players with potentially offensive names will be censored or renamed.
Age 4 Victors
[
]
Players who were members of the victorious house of Age 4 at the time they won the final glory round will receive the following prize at the beginning of Age 5:
6x Quest Wheel Spins
1 x Ultimate Random Pack
5 x Super Random Packs
10 x Random Card Packs